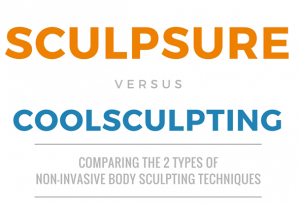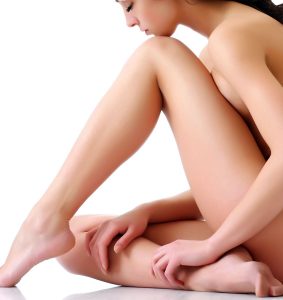 There are many different methods to sculpt your body and achieve the proportions you want. In the world of "non-surgical" body contouring, the two main methods are SculpSure and CoolSculpting. They're both based on a similar principle because they both alter the temperature of fat cells so they can be destroyed. CoolSculpting, not surprisingly, cools down the fat cells, whereas SculpSure heats them up. Both methods ensure those fat cells are no longer viable.
Both methods are less invasive alternatives to traditional liposuction, and each have their benefits. Let's take a look at both.
SculpSure
This is an FDA-approved, non-invasive fat reduction treatment that does not involve surgery. As such, there's minimal downtime so you don't have to spend a lot of time in recovery, missing work and taking it easy. With long-lasting results, this laser solution causes the death of fat cells through the process of heating them up to about 110 degrees F, via a special flat applicator placed on the skin.
While the abdomen is the most common area of treatment, SculpSure can also be used on the thighs, buttocks, back, chin, and arms.
First, the applicator emits an infrared light from a hyper-thermic laser using a wavelength that can easily get through the epidermis and dermis without damaging surrounding skin. One month after treatment, the area is filled with macrophage – this is a naturally-occurring cell that collects all the damaged, dead cells and gets rid of them. They don't come back, which is why the results are said to be permanent. How does the skin contour to the new area, you ask? Collagen helps the skin tighten and adhere.
Take a look at some of the main benefits of this method:
Long-lasting, non-invasive results
Fast treatment
Little to no discomfort
No use of anesthesia for a safer procedure
No down-time, unlike traditional liposuction
All skin types can benefit
SculpSure is so beneficial and long lasting because it works in a different way than if you were simply to lose weight. When you lose weight, the fat cells shrink but they will always be there, waiting to fill back up. With SculpSure, those fat cells are eliminated once and for all so they can't come back.
Best part is, SculpSure takes just a half hour and can be done in the office.
CoolSculpting
As said above, this method also uses temperature to destroy fat cells, but in this case, they are cooled, not heated. This method is administered via a gel pad and applicator. The non-invasive device draws in some of the treatment area through a suction-like process for closer treatment. CoolSculpting takes roughly the same amount of time as SculpSure to perform. Treatment areas may require additional treatments to achieve the desired result, but both are pretty much the same in terms of effectiveness. This method of fat removal is also approved by the FDA and is also non-invasive with no need for anesthesia.
Here at Houston Liposuction Center, we are proud to offer both SculpSure and CoolSculpting. To find out which fat reduction treatment would benefit you most, contact us today. Click here to learn more about CoolSculpting.
Learn More
Call Houston Liposuction Centers to schedule your initial consultation. At this appointment, we will discuss your goals, give you an exam, and determine a customized plan for your SculpSure treatment. Everyone is different, so what works for you may not for someone else. Whether you want to get rid of your muffin top, a double chin or love handles, the specialists at Houston Liposuction Center can help you achieve the body you've always wanted.