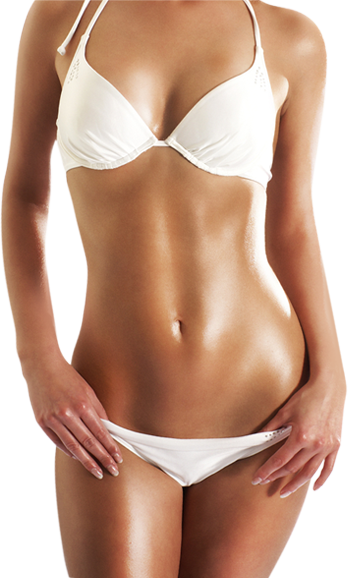 One of the most common areas on the body people struggle with excess fat is the abdomen. It does not matter how many hours you spend at the gym, it seems as though sometimes you do not see the results of your hard work.
Liposuction is a cosmetic surgery technique that targets localized fat deposits such as those of the stomach. Some abdominal fat deposits do not tend to respond to diet or working out, so in these cases liposuction is an ideal solution. Another scenario liposuction is beneficial for is when patients are happy with their curves, but certain areas of the body are just out of proportion.
It is important to note that liposuction is not meant as a weight loss solution or substitution; it is designed for those who wish to address specific pockets of fat. Abdominal Liposuction can create a smoothed, defined abdominal contour.
About the Procedure
To begin the Liposuction procedure, a patient is given local anesthesia and the abdominal area is numbed. The procedure involves only a few puncture spots on the abdomen that are a few millimeters wide, so scarring is not common. However, if there are visible incisions spots, they are the width of a spaghetti noodle and will fade with time and become camouflaged in the skin tone. Once the entry points are created, excess fat deposits are liquefied by the advanced technology and then suctioned out through a small tube.
Liposuction of the abdomen is a fantastic solution for getting rid of those stubborn fat deposits. The shape of your muscles and the amount of fat suctioned will determine whether you will get 6-pack abs, but it is possible for some people after a treatment. Good results can be seen in 1-2 months.
Abdomen Liposuction Recovery / Downtime
There is minimal downtime after abdominal liposuction. You are able to walk right after the procedure is over and can continue with light activities. You will be given a compression garment to be worn around the abdomen 24 hours a day for the following 2 weeks. There is only minimal discomfort associated with abdominal liposuction, similar to soreness after a hard workout. Mild swelling and bruising can be experienced by patients.
Abdomen Liposuction Before & After Photos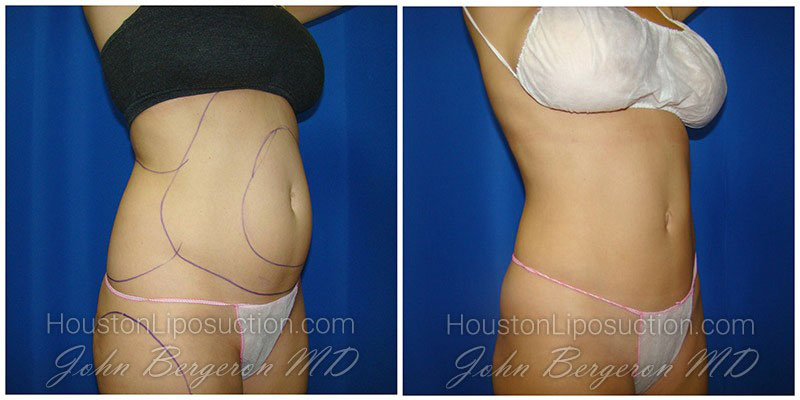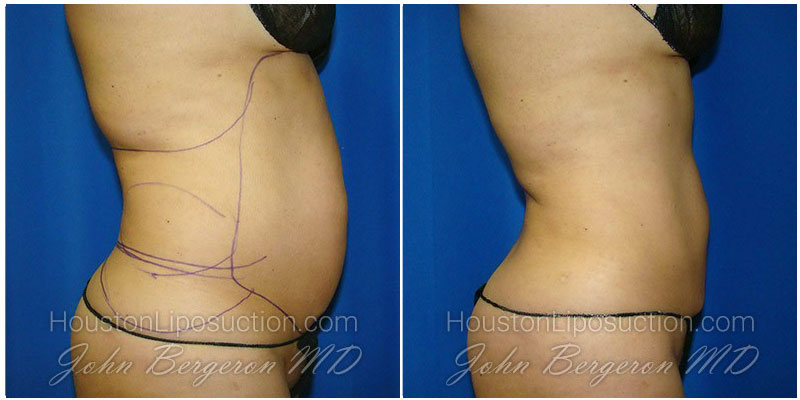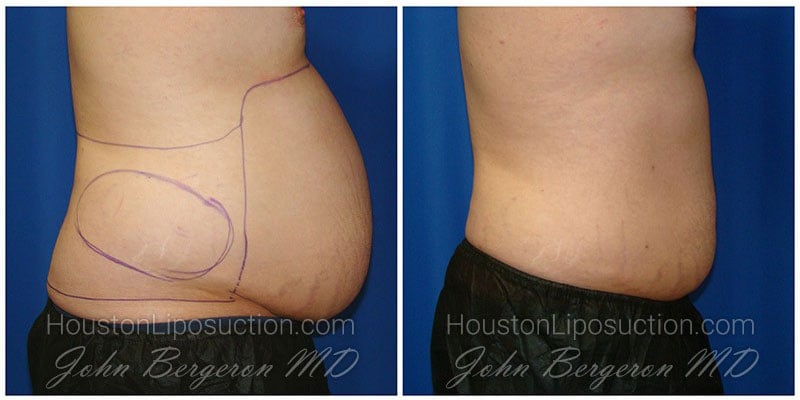 Abdomen Liposuction Price – $4,900 – $5,900 (ALL INCLUSIVE)
When undergoing a liposuction procedure for the abdomen, it usually consists both the upper and lower abdomen. For pricing, this is considered 2 areas in most cases, and will range between $4900 – $5900. At Houston Liposuction Center there is never a charge for a consultation and the following are included in our ALL INCLUSIVE fee for abdomen liposuction:
Pre-op Labs
Antibacterial Scrub and Antibiotics
Facility Fee and Tumescent Local Anesthesia
One Compression Garment
Post-op Supplies
All Follow-up Visits
At the time of discharge, all patients are given a prescription for a pain medication. If he or she chooses to fill this prescription they will have to fill at their own pharmacy. Also, some patients choose to buy a second compression garment at their own expense.
Financing for Abdomen Liposuction
We also accept financing through CareCredit, starting as low as $79/month. Apply on www.CareCredit.com.
To learn about liposuction pricing for other body areas please visit our liposuction cost page.