The upper arms often get the reputation of being inevitably flabby or floppy, no matter how many arm-targeted exercises you do. And even if you are able to strengthen your biceps and triceps, a stubborn layer of fat still covers the muscle definition. The arms are unfortunately one of the areas genetically predispositioned to store fat deposits, and diet and exercise hardly do anything to fight this layer or fat deposits and lax skin. Besides genetics, some other reasons leading to fat buildup in the upper arms are age and sex of the patient.
An arm liposuction treatment at Houston Liposuction Center will diminish unresponsive fat deposits in the upper arms. Arm liposuction cannot and should not replace exercising and eating well. This treatment is reserved for those who have not seen results through rigorous efforts to tone their arms by their own means. Not everyone is a candidate for arm liposuction, so a consultation at Houston Liposuction Center will establish your candidacy.
About the Procedure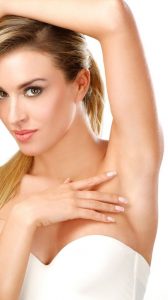 Arm liposuction can be performed on men and women who are in good health but struggle with localized fat deposits in their upper arms. Both arms are addressed during your arm liposuction procedure, and it's only done on the upper arms, not the forearms. Houston Liposuction Center surgeons specialize in removing the optimal amount of fat to ensure fat reduction with natural-looking results, as the majority of women naturally have a small layer of fat on the arms that should remain preserved.
The procedure begins with a local anesthetic being administered to the treatment area so the area is numb but you remain awake. A few tiny incisions are made for the cannula to pass through and liquefy and suction the fat. Resulting scars, if any, are very small and fade with time. Very often, arm liposuction is paired with back liposuction to slim the upper half of the body and make it proportional.
Recovery / Downtime
Little downtime is needed after your arm liposuction procedure. Bandaging or compression garments are wrapped around the upper arms to help the skin form to its new contour and reduce any swelling or bruising; this must remain on for the following 2 weeks 24 hours of the day. You are able to return to work and light activities quickly, but take it easy the first couple of weeks with any heavy lifting. Discomfort is hardly reported, but pain medication can be prescribed if you desire; we want to make sure you are as comfortable as possible. The majority of arm liposuction patients experience an immediate rise in self-esteem and the confidence to wear sleeveless tops once optimal results are reached in 1-2 months.
Arm Liposuction Before & After Photos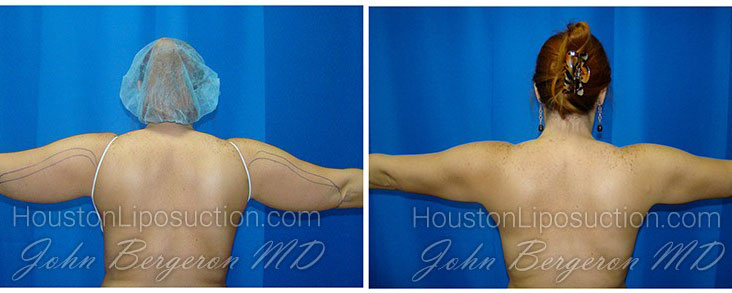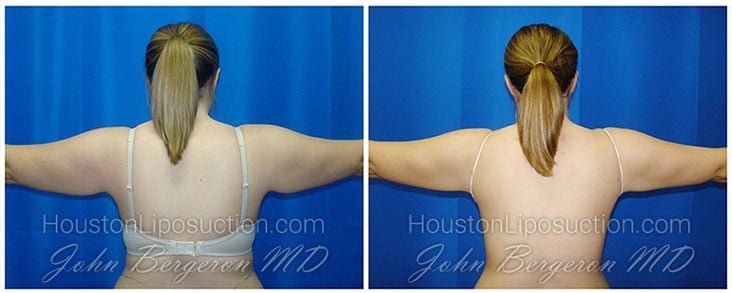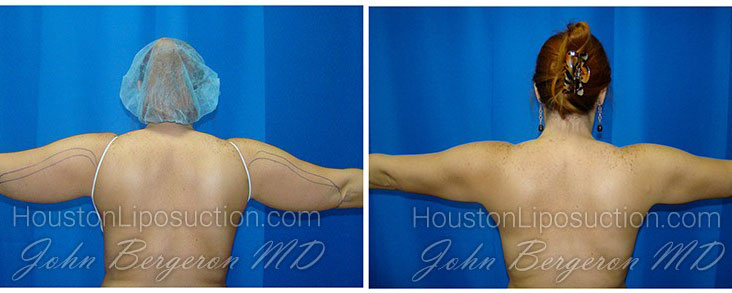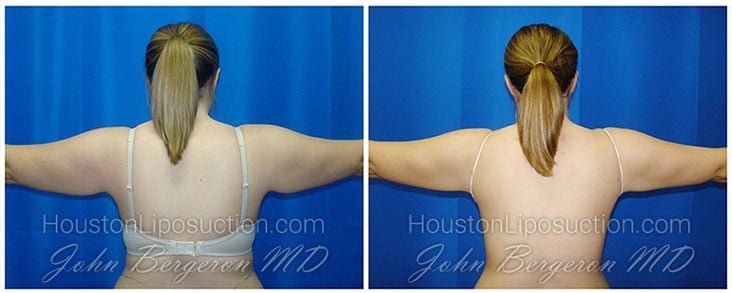 Arm Liposuction Pricing – $3,900 – $4,900 (ALL INCLUSIVE)
At Houston Liposuction Center there is never a charge for a consultation and the following are included in our ALL INCLUSIVE fee for arm liposuction:
Pre-op Labs
Antibacterial Scrub and Antibiotics
Facility Fee and Tumescent Local Anesthesia
One Compression Garment
Post-op Supplies
All Follow-up Visits
At the time of discharge, all patients are given a prescription for a pain medication. If he or she chooses to fill this prescription they will have to fill at their own pharmacy. Also, some patients choose to buy a second compression garment at their own expense.
Financing of Arm Liposuction – Starting as low as $79/month
We also accept financing through CareCredit, starting as low as $79/month. Apply on at www.CareCredit.com.
To learn about liposuction pricing for other body areas please visit our liposuction cost page.