Liposuction can treat unwanted fat in many body areas, one of the more popular areas being the love handles, or male flanks. Love handles are one of the toughest areas to manage, create the unsightly look of "muffin top." Love handles are difficult to slim on your own solely through diet or exercise. And even if you do lose some weight, this stubborn area remains unchanged, making you look heavier than you actually are.
The flanks, or love handles, refers to the area between your ribs and hips. There are different causes of fat storing in the flanks. Some of the more typical reasons for love handles are aging, genetics, and pregnancy. Hormonal changes can be a large factor as well. Hormones can be triggered by different factors such as stress or sugars in the blood.
For others, love handles appear because they consume more calories than they burn and the fat stores in the midsection. Alcohol can cause this accumulation as well. For men, additional reasons can also include low testosterone, insulin resistance (pre-diabetes) and living a sedentary lifestyle.
About The Procedure
For men, this area of the body very commonly store excess fat. However, it is an excellent spot for a Liposuction procedure due to its ideal skin elasticity, allowing the skin to tighten to your newly contoured figure. The toning of love handles will reveal muscle definition and a slimmer waist. Not only will you look good, you will feel good too. Your confidence will rise, while you finally grab your favorite pair of jeans from the back of the closet.
Most patients usually require only one Liposuction treatment. The session length roughly takes 1 hour per area you are treating. You will be awake during the process since local anesthesia is used for the procedure. The instrument is so small though you will only feel light pressure, if any at all.
Love Handle Liposuction Recovery / Downtime
After the liposuction session, wearing an abdominal binder for 2 weeks will help provide support and reduce swelling. After the surgery, rest and relaxation is recommended for the first 48hrs, and gradually, normal activities can be resumed. Low impact exercise can be started after 48 hours, as tolerated. High impact exercise (running or jumping) should be avoided for about 2 weeks.
Recovery and downtime vary between patients, but the large majority are able to return to work within 48 hours of the procedure. The downtime for Liposuction is extraordinarily short. The soreness associated with Liposuction is equivalent to the soreness experienced after a hard workout; it won't hold you back from continuing normal tasks.
Love Handle Liposuction Before & After Photos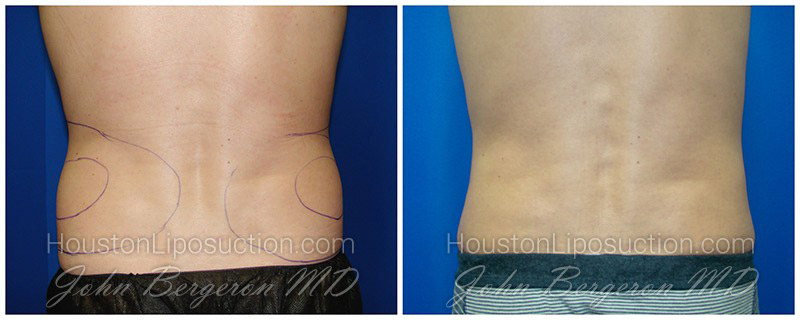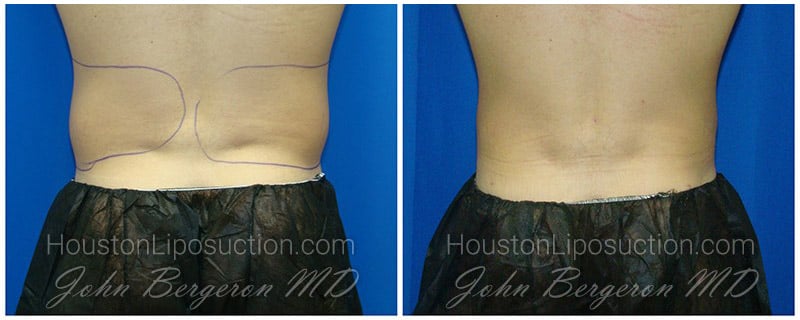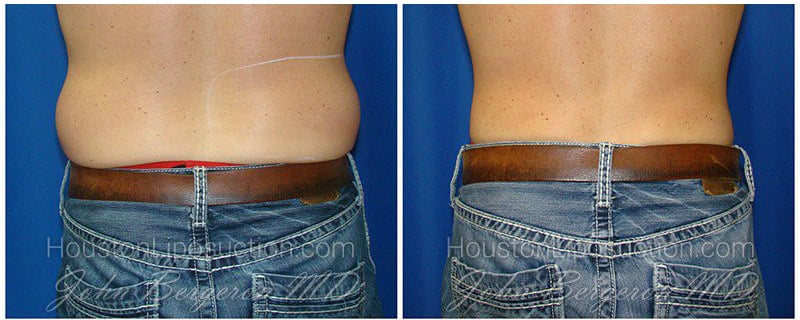 Love Handle Liposuction Cost – $3,900 – $4,900 (ALL INCLUSIVE)
When undergoing a liposuction procedure for the love handles at our center, the cost is always $3900. At Houston Liposuction Center there is never a charge for a consultation and the following are included in our ALL INCLUSIVE fee for flanks/love handle liposuction:
Antibacterial Scrub and Antibiotics
Facility Fee and Tumescent Local Anesthesia
One Compression Garment
Post-op Supplies
All Follow-up Visits
At the time of discharge, all patients are given a prescription for a pain medication. If he or she chooses to fill this prescription they will have to fill at their own pharmacy. Also, some patients choose to buy a second compression garment at their own expense.
Financing of Love Handle Liposuction – Starting at low as $79/month
We accept financing through CareCredit. Apply on www.CareCredit.com
To learn about liposuction pricing for other body areas please visit our liposuction cost page