Houston's Lipo
Experts!
"Having this procedure was the best decision I've ever made"
- Jacqueline A.
"The doctor and staff are very good at what they do"
- Phyllis C.
"My experience exceeded all of my expectations"
- Caryn D.
SEE BEFORE & AFTERS
Liposuction in Houston, TX
Sculpt and Contour Your Body with Micro Tumescent Liposuction
Liposuction is a surgical procedure for both women and men who are looking to remove fat and contour their body. Liposuction is ideal for patients who are otherwise healthy but simply can't seem to lose fat in specific body areas through diet and exercise.
At Houston Lipo Center, we specialize in micro tumescent liposuction, which uses smaller, less invasive "microcannulas" – resulting in less trauma and a faster recovery vs traditional liposuction. All liposuction procedures performed at Houston Lipo Center use the tumescent method in combination with local anesthesia for a safe, minimally invasive approach.
Learn More
Experienced Surgeons
Proven Techniques
No General Anesthesia
At Houston Lipo Center, we want your experience and your results to be second to-none. We offer an upfront, no-nonsense approach to liposuction that's honest about the results lipo can achieve as well as the cost of the procedure.
Why Choose
Houston Lipo Center?
Houston Liposuction Center is proud to provide our patients with the most up to-date, clinically-proven body contouring procedures available today, including SmartLipo (laser assisted liposuction). Our minimally-invasive approach to liposuction ensures exceptional results.
View Photos
Abdomen Liposuction Before & After Photos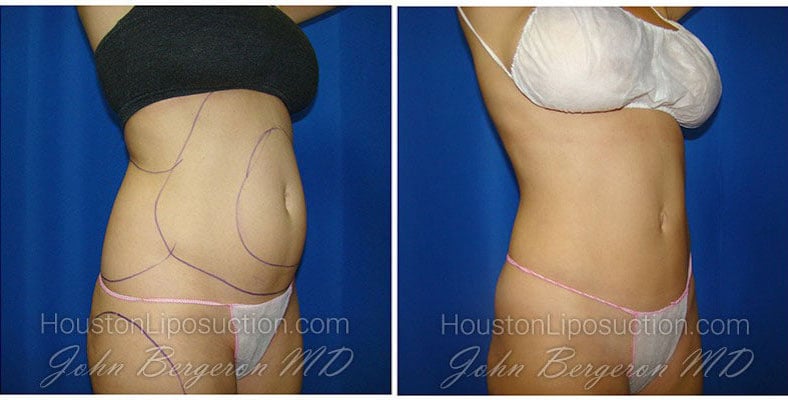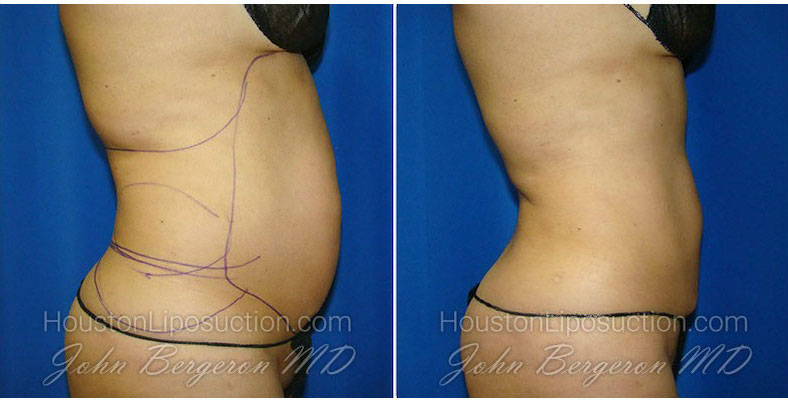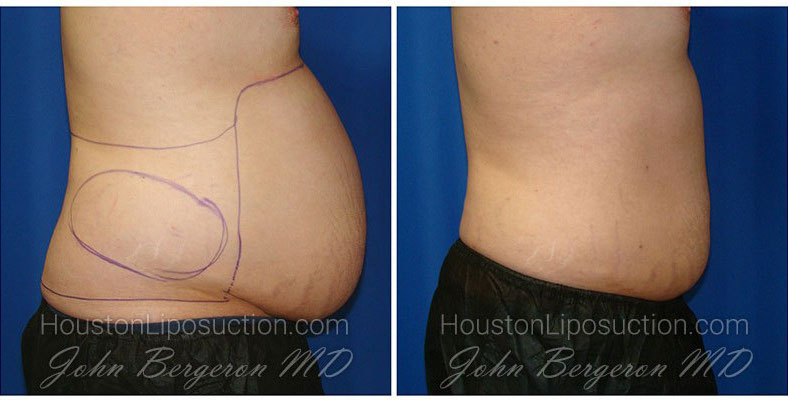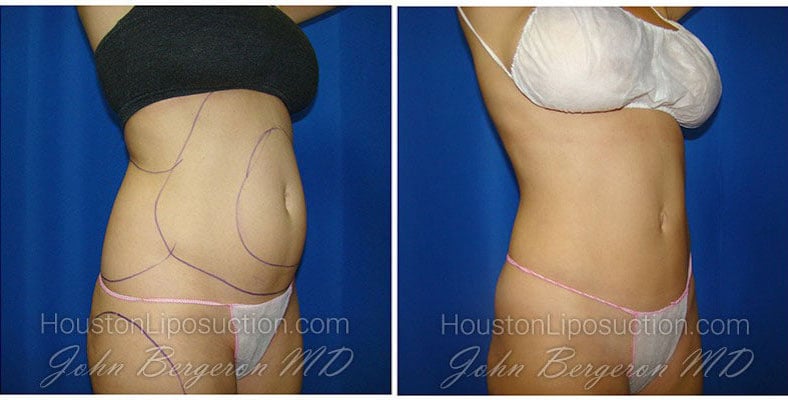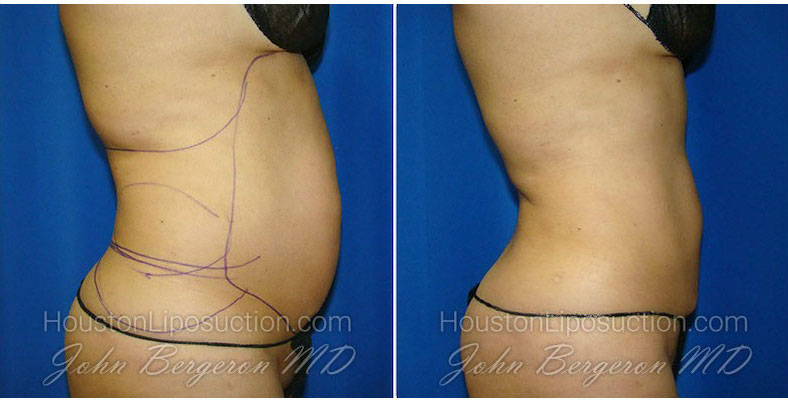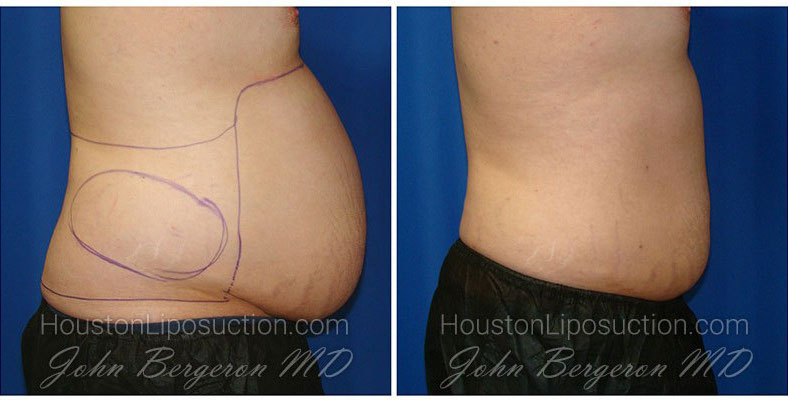 Top Liposuction Areas
Our advanced liposuction techniques can remove up to 75% of the fat layer for the area treated in just one procedure.
Here at Houston Lipo Center we aim for a natural look – no "etching" or trendy procedures that won't age well. Patients from all around the state and even the country have come to have their liposuction procedure here at the Houston Lipo Center.

ABDOMEN
The abdomen is the most popular area for men and women. It's divided into upper and lower areas. The amount of subcutaneous fat in the area will determine what results can be expected. Abdominal liposuction is our most common procedure performed.

WAIST/HIPS
The waist/hips, flanks, or love handles are a popular area often done in combination with the abdomen, or separately. This is one of the best areas to tackle if you want your jeans to fit better.

THIGHS
Whether it's the inner or outer thighs, many patients are looking to reduce their thighs. Thigh liposuction can help eliminate saddlebags, help pants fit better, and get rid of "thigh rub."

CHIN
The chin and jawline have a huge impact on physical appearance that can't be hidden by creative wardrobe options. The submental (chin and neck) area is an important aspect of your appearance, whether personal or professional. Chin liposuction can provide excellent results for patients with good skin elasticity.

BACK
Bras can push fat down, creating a "bra bulge" that often is resistant to diet and exercise. Back liposuction can make a huge difference in one's appearance, especially for women.

MALE CHEST
For cases of pseudo-gynecomastia, chest liposuction alone can be a course of treatment to improve the look of the upper body and the fit of shirts.
Liposuction for Men
There's a perception that lipo is something only women do, but that's just not true.
Wanting to look your best isn't gender-specific. Here at Houston Lipo Center, we treat male and female patients. We offer specific procedures tailored towards men, such as the male chest, a common treatment for pseudo-gynecomastia.
Read More
Liposuction Pricing
There's not one flat price for liposuction - it depends on how many areas you want treated and how large those areas are. Most liposuction cases range from $3900 - $7500.
Upper & Lower Abdomen (2 areas): $4,900 - $5,900
Full Abdomen & Flanks (3 areas): $5,500-$7,500
Chin (1 area); $3900 - $4,900
Love Handles (1 area): $3,900 - $4900
Mid & Upper Back (2 areas): $4,900 - $5,900
For more information on pricing and financing, please visit our pricing and financing page.
Learn More
Schedule a Consultation
Are you a good candidate for liposuction? If you want to know whether micro tumescent liposuction with Houston Lipo Center will help you achieve your body goals, the best way to know is to schedule a free consultation. The ideal patient is within 20-30 pounds of their ideal weight and is wanting to sculpt and contour their body in ways that diet and exercise haven't been able to.
Questions? Ready to
Schedule a Consultation?
Read Our Latest Articles
How to Prepare for Liposuction Surgery
Preparing for cosmetic surgery may seem daunting at first, especially if you are feeling the common pre-op emotional mix of anxiety and excitement. Getting ready for your liposuction procedure at Houston Lipo Center is straight forward and doesn't require too much. Our method of liposuction is minimally invasive and performed […]
Read More
Top 3 Lipo Areas for Women in Houston
Liposuction is a great solution to eliminate stubborn pockets of fat for women and men alike. Fat does not discriminate and both women and men face challenges trying to lose certain deposits of fat that just won't seem to budge. The main differences between liposuction for men and women is […]
Read More