SculpSure Overview
How SculpSure works
SculpSure works by heating the fat cells with a laser to a temperature that causes lipolysis, or fat cell death. The special applicators, which lay flat on the skin, heat the fat layer while simultaneously cooling the surface of the skin for patient comfort. Over a period of 6-12 weeks, the destroyed fat cells are naturally eliminated from the body through the lymphatic system.
How the SculpSure treatment is performed (what to expect)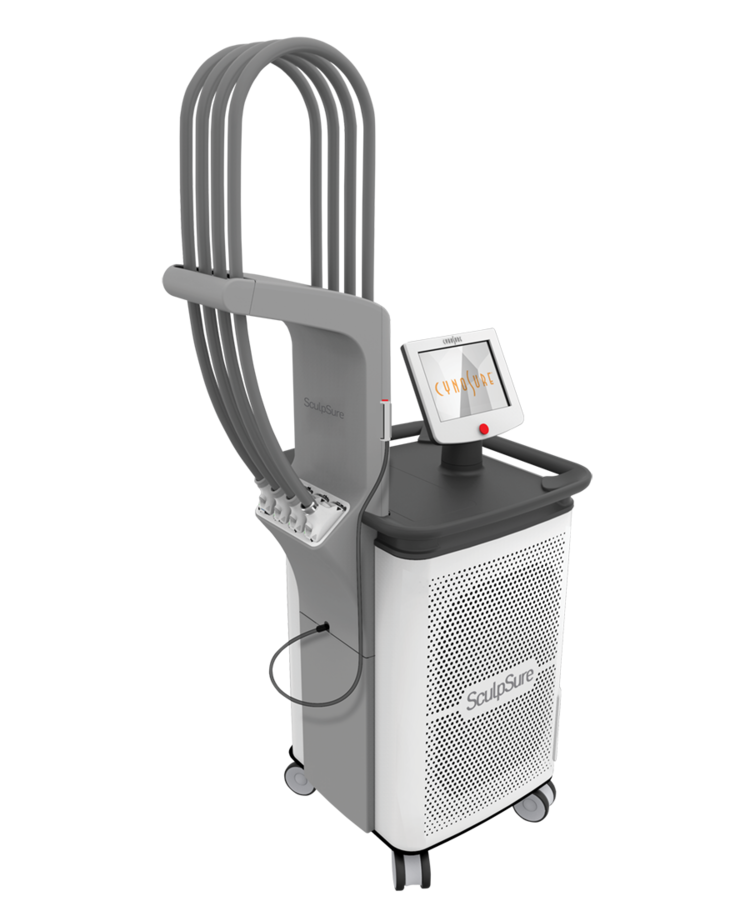 Before your procedure, the surgeon will mark the target area(s) and take pre-procedure photos. In the procedure room, you will be positioned on a comfortable treatment table and the applicators will be placed on the target area(s). When the treatment begins, you will initially feel a cooling sensation, followed by intermittent waves of warmth. The warming sensation is an indication that the SculpSure laser is in the fat destruction mode. After the treatment is completed, you are free to return to work or home and resume normal activities. There is no post-procedure garment to wear. There is truly no downtime with this procedure.
SculpSure Before and After Photos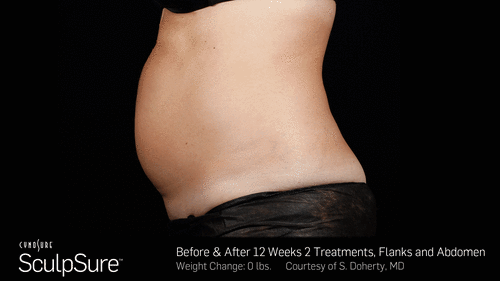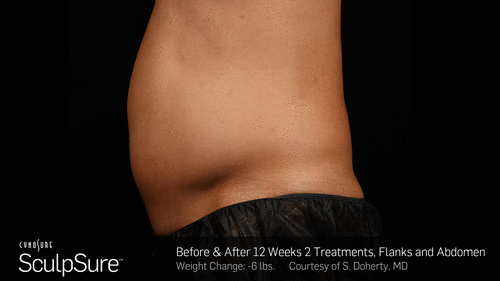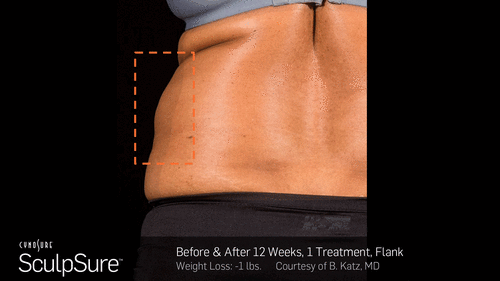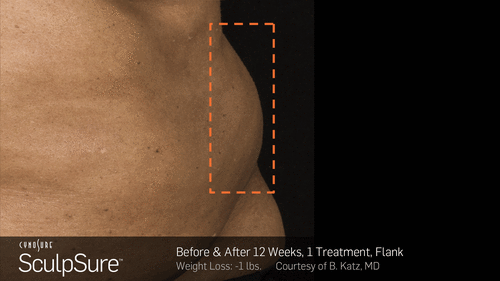 SculpSure Reviews
The overall satisfaction rate of SculpSure is extremely high. A recent multi-site study with over 100 patients has shown the satisfaction rate to be over 90%. (2)
SculpSure FAQ's
Am I a candidate for SculpSure?
Candidates for SculpSure generally falls into two broad categories:
The first group of patients has small areas of fat (one inch pinch or less), and these areas are resistant to diet and exercise. They would be satisfied with about a one fourth reduction in the fat layer and desire a non-invasive, quick solution.
The second group of candidates has slightly more fat to reduce (more than an inch pinch). These patients realize that they may be better candidates for liposuction, but absolutely do not want surgery of any kind and/or cannot afford any downtime. They also realize that they may need more than one SculpSure treatment to obtain the desired result.
Does SculpSure treatment hurt?
The SculpSure procedure is not painful. Most patients state that they feel a tingling sensation, with intermittent cool and warmth.
When can I expect to see results?
You can expect to see results in as little as 6 wks. Most patients state that they see continued reduction for up to 12 wks.
Do SculpSure results last forever?
The fat cells that are destroyed during the treatment do not regenerate. And although the treated areas will always be proportionally smaller, patients do need to continue a healthy lifestyle to prevent overall weight gain.

What body areas can be treated with SculpSure?
SculpSure has been cleared by the FDA for treatment of the abdomen and flanks/love handles. However, because the of flexible design of applicators, we are able to treat "off-label" areas to include the inner and outer thighs, back, arms, buttocks and chin.
SculpSure vs. CoolSculpting, what is the difference?
Treatment time
SculpSure only takes 25 minutes per treatment whereas CoolSculpting will take about an hour.
Treatment tolerability
Many patients report pain during CoolSculpting as the skin and fat layer have to be suctioned into the applicator. Patients report little to no discomfort during SculpSure.
Effectiveness
Both SculpSure and CoolSculpting have been proven to reduce the fat layer. In clinical trials, SculpSure has been shown to reduce the fat layer slightly more than CoolSculpting. (24% vs 22%)
Naturalness of results
SculpSure has applicators that lay flat and disperse heat deep and laterally to blend the reduced area with the surrounding tissue. Because CoolSculpting literally "suctions" the area, it has a problem called "shelfing". This is where you can see an unnatural ridge where the applicator was positioned.
Can I have SculpSure if I have already had Liposuction or CoolSculpting?
Yes, SculpSure can be used to treat residual fat in areas that have been treated before with other modalities. SculpSure can even be used to treat "shelfing" defects that are sometimes caused by CoolSculpting.
Ok, I'm definitely interested in having SculpSure. So why should I choose you to do my treatment?
We specialize in surgical and non-surgical body sculpting. It's all we do.
Our surgeons are personally involved in every SculpSure consultation and treatment. They will determine the exact number and configuration of applicators needed for your procedure.
Our spa like environment, plush treatment tables, music and 25 minute TV shows on iPads will make your treatment time the best part of your day.
SculpSure Cost
Special Introductory Pricing – $350/applicator (regular price $450)
The pricing of SculpSure at Houston Liposuction Center is based on the number of applicators:
Up to 4 applicators can be used for each 25 minute SculpSure treatment. Our competitive price for each applicator is $350 (compare CoolSculpting at $600+ per applicator).
The average abdomen can be treated with 4 applicators, and that can be done in a single 25 minute session.
The average flanks/love handles can also be treated with 4 applicators (2 on each side). This treatment would also last 25 minutes.
Multiple areas can be treated the same day. Discounts apply when more than 8 applicators are used.
At the time of your complimentary consultation, the doctor will determine the number of applicators need to affectively treat the areas.
There is never charge for a consultation at Houston Liposuction Centers. All SculpSure candidates will meet one-on-one with one of our skilled surgeons to access appropriateness for the procedure.
Call today to schedule your complimentary consultation. 713-777-5476
1. Average reduction in fat volume following single treatment as measured by MRI; Clinical and Histological Evaluations of a 1060nm Laser Device for Non-Invasive Fat Reduction, John W. Decorato, M.D., FACS. Rafael Sierra, Ph.D., Bo Chen, Ph.D., Westford, MA, 2014.
2. Katz B, Doherty S. A multicenter study of the safety and efficacy of a non-invasive 1060 nm diode laser for fat reduction of the flanks. Paper presented at: 2015 Annual American Society for Laser Medicine and Surgery Conference; April 22-26; Kissimmee, FL.
3. Average patient discomfort rating of 3.7 on a scale of 1-10; Bass L, Doherty S. Non-Invasive Fat Reduction Of The Abdomen With A 1060nm Diode Laser.Paper presented at: 2015 Annual American Society for Laser Medicine and Surgery Conference; April 22-26; Kissimmee, FL.