Why choose the Houston Liposuction Center? Because Body Sculpting is all our experienced surgeons do. Being that liposuction is our only focus, you can rest assured that you are getting the best treatment possible.
SmartLipo – Laser Assisted Liposuction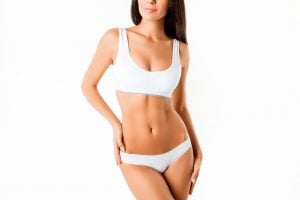 SmartLipo is the first FDA-approved laser liposuction device to reduce fat and firm the skin. This minimally invasive liposuction procedure uses laser light beams emitted from a special fiber to precisely target and destroy fat cells. The fiber is threaded through a cannula which will be inserted into the skin through a small incision. The targeted fat cells will liquefy and then gently suctioned out of the body. The laser energy also tightens the skin above the treatment area by stimulating collagen production.
This will help to show off the body's new contour better. SmartLipo results are instantaneous and continue to improve once swelling completely subsides.
Liposuction Consultations in Katy TX
Consultations are held at both our Katy and Houston locations, however, all surgeries are performed at our Houston location.
At the consultation, our lipo experts will listen to your cosmetic concerns, what your body sculpting goals are, and make note of your medical history. After sharing this information, they will perform an evaluation.
After evaluation, the surgeon will give you their recommendations. If liposuction is recommended, a price quote for the procedure will be provided. We want all patients to be comfortable and confident in their decision to choose our Katy liposuction center as their home for body sculpting, and we do everything in our power to help you feel comfortable and confident.
Cost of Liposuction in Katy TX
The cost of liposuction at our facility starts at $3900 – $4900 for the first treated area. Price increases with number of areas treated. For more detailed information regarding liposuction pricing for our Katy patients, please visit our liposuction cost page.
Call (713) 777-LIPO or click here today to schedule a consult