The thighs have been a common area of concern for many women, the inner thigh gap being the latest "in thing." Thighs rubbing together while walking can be very irritating, uncomfortable, and cause an unpleasant sound when your jeans rub together. This becomes even more bothersome when your knees rub together as well.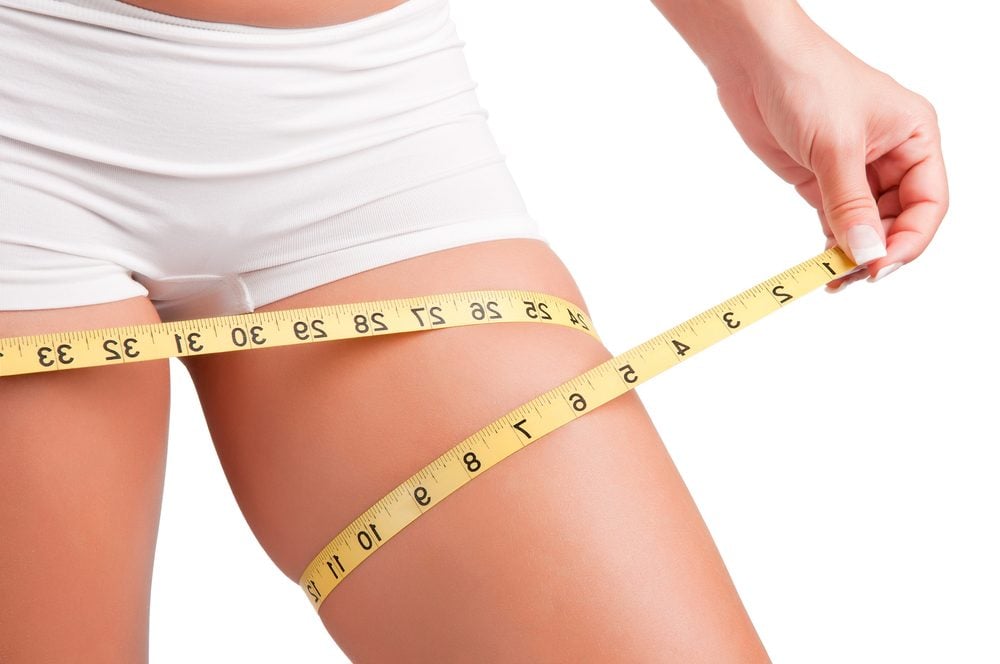 The thighs and knees are a very difficult to slim by means of eating well or working out. Legs do get some continual exercise from walking, but this alone cannot rid fat deposits. The female body is designed to store excess fat in the upper thighs, so some women are genetically predispositioned to have large amounts of fat build up in the thighs.
The ideal candidate for thigh and/or knee liposuction are women and men who suffer from localized fat deposits in the inner thighs, outer thighs, the knees, or any combination that do not respond to diet or exercise. These patients should be close to their ideal weight, in good health, and have good skin elasticity.
About the Procedure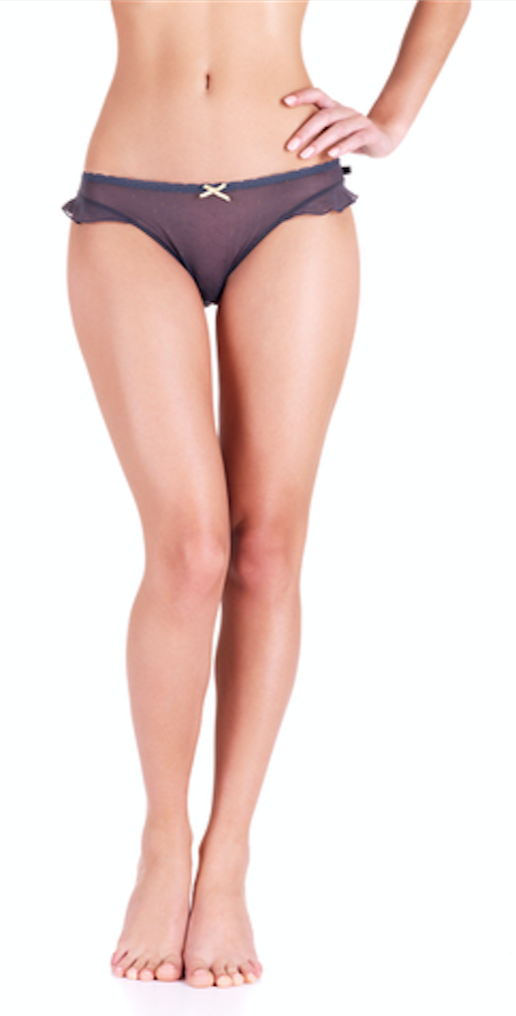 Thigh liposuction and knee liposuction only require local anesthesia for patient sedation. Once the patient is comfortably anesthetized, the surgeon will create minuscule incisions. The strategic placement of each incision is to ensure all fat deposit locations are accurately reached. The resulting scars will be hardly noticeable if at all since they are so small and in well-hidden locations.
For the inner thighs, tiny incisions are made near the groin and in the creases of the buttocks.
The outer thigh incisions are made near the hip bones as well as on the sides of the thighs.
Knee liposuction requires incisions on the inside and sometimes the outside of the knees.
Depending on your specific case, liposuction of the just the inner thighs, just the outer thighs, just the knees, or all 3 can be performed.
Recovery / Downtime
Patients will be given a compression garment to be worn around the thighs and/or knees all day and night for 2 weeks following your procedure. This is to help reduce swelling and help your body form to its newly contoured shape. There is very little downtime required, but patients should walk immediately after their procedure. Walking helps speed up healing as it promotes better blood flow. You can see results within a few weeks, and continuous improvement over the following months. Liposuction of the thighs and knees leaves patients will slim, contoured legs.
Before and After Photos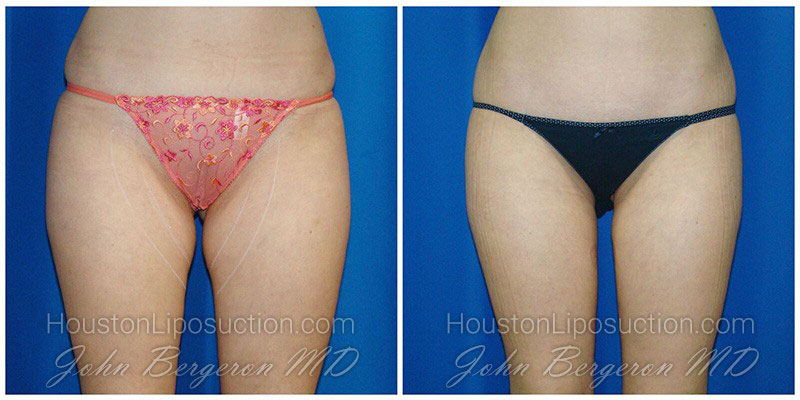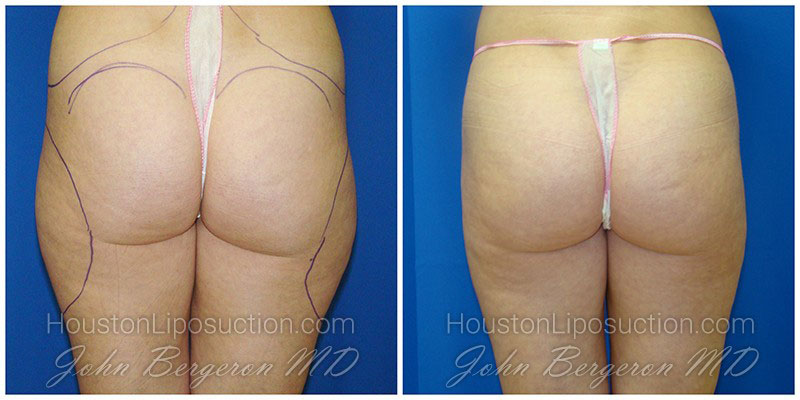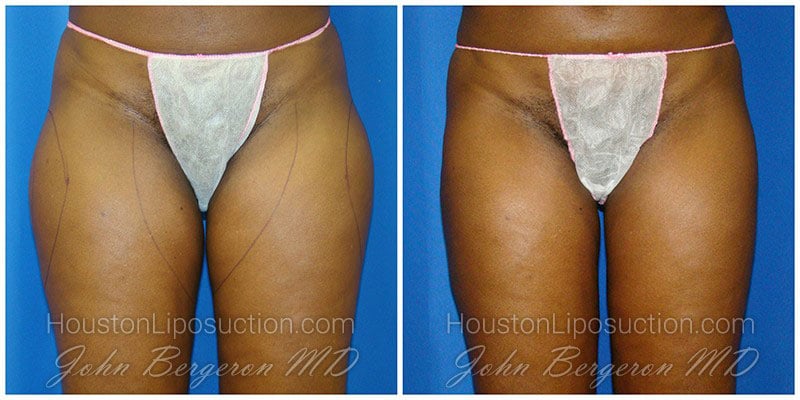 Pricing – $3,900 – $7,500 (ALL INCLUSIVE)
The inner thighs, outer thighs, and knees are all considered separate areas. Pricing is broken down below.
Liposuction for just the inner thighs, just the outer thighs, or just the knees is $3,900 – $4,900 all inclusive.
Liposuction for the outer thighs + inner thighs is $4,900 – $5,900 all inclusive.
Liposuction for the outer thighs + inner thighs + knees is $5,500 – $7,500 all inclusive.
At Houston Liposuction Center there is never a charge for a consultation and the following are included in our ALL INCLUSIVE fee for thigh and/or knee liposuction:
Pre-op Labs
Antibacterial Scrub and Antibiotics
Facility Fee and Tumescent Local Anesthesia
One Compression Garment
Post-op Supplies
All Follow-up Visits
At the time of discharge, all patients are given a prescription for a pain medication. If he or she chooses to fill this prescription they will have to fill at their own pharmacy. Also, some patients choose to buy a second compression garment at their own expense.
Financing of Thigh/Knee Liposuction – Starting at low as $79/month
We also accept financing through CareCredit, starting as low as $79/month. Apply on www.CareCredit.com.
To learn about liposuction pricing for other body areas please visit our liposuction cost page.