If you're researching liposuction procedures you've probably heard of Lipo 360°. In fact we've had quite a few people inquire about Lipo 360°, the cost, and the recovery time. We'll cover all that in this article.
Lipo 360 (or 360 Lipo) refers to the body areas where liposuction is performed – three hundred and sixty degrees, or all the way around the midsection. That's all there is to it! If a liposuction procedure includes lipo on a patient's abdomen and waist / hips (which reaches around to either side of the spine), then it's considered Lipo 360°.
It's important to note that Lipo 360° is not a trademark, brand name, or special type of liposuction procedure. Any liposuction surgeon can claim to offer Lipo 360° – it's mostly just a marketing buzzword. All it means is liposuction on the stomach and love handles, which any liposuction specialist will be able to provide. Some surgeons will use this to refer to liposuction that also includes the back – because it's not an official term, there's no one definition. It's also important to note that Lipo 360° is different from what's sometimes called "fully body liposuction." Lipo 360° only addresses the midsection, and won't suction fat from arms, thighs, calves or upper back.
Different surgeons will define Lipo 360° differently, so make sure when you meet with your surgeon that you're clear which body areas will be addressed.
Generally when we talk about a 360 Lipo procedure the expectation is that all the body areas will be completed in one session – but it will depend on the size of the case, and the type of anesthetic used.
Lipo 360° doesn't refer to any specific type of liposuction device or procedure, like laser liposuction (SmartLipo) or Vaser. You can have 360 Lipo performed with SmartLipo, with Power Lipo, with Vaser, or with standard liposuction equipment. As with any liposuction procedure, there is a risk of loose skin after fat is removed. It's especially important to include skin tightening (like the laser stimulation found in SmartLipo) as part of a 360° procedure.
Liposuction 360° Examples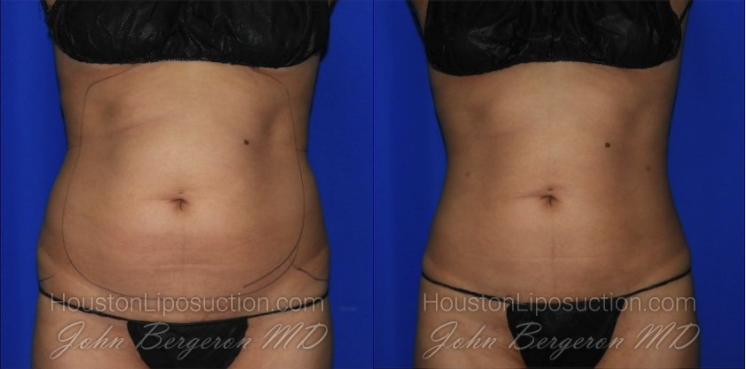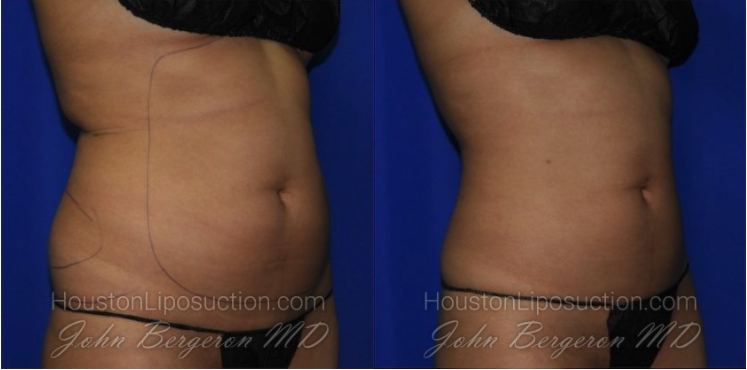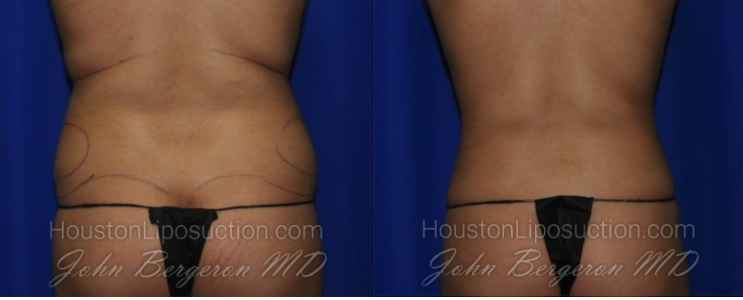 This patient had liposuction on her upper abdomen, lower abdomen, and waist / hips. We can see how the back area is also improved with the reduction in the love handles. Actual patient of Houston Lipo Center, Houston TX.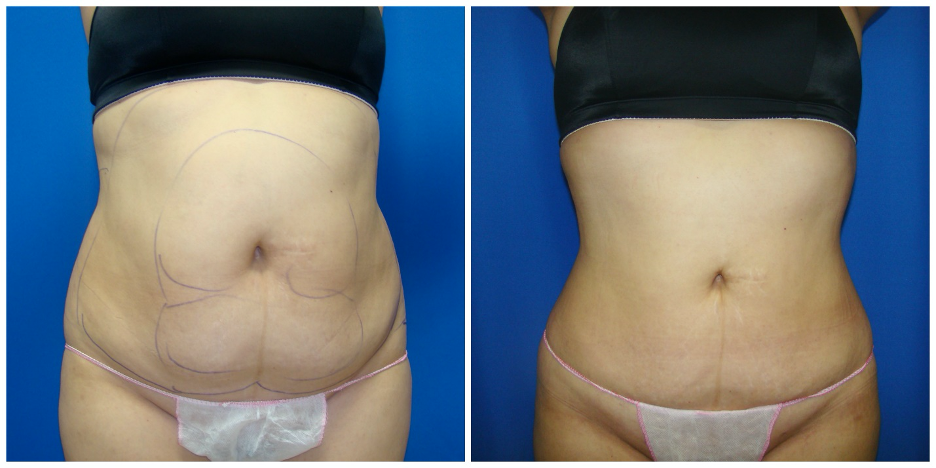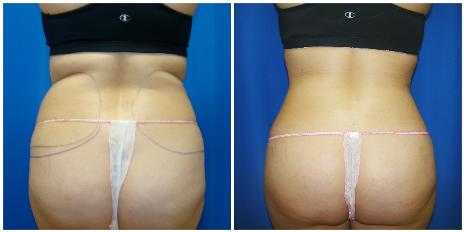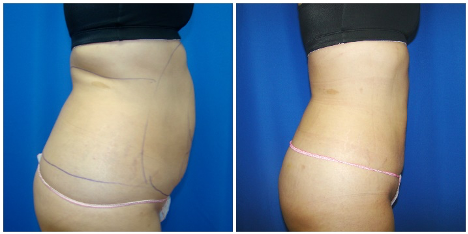 This patient had liposuction on her upper abdomen, lower abdomen, and waist / hips. We can see here in the reverse how the hips and waist area extends all the way around the back side for 360-degree liposuction. Actual patient of Houston Lipo Center, Houston TX.
What is Recovery Like for Lipo 360°?
This is a big question and will depend on a number of factors. Ultimately, how long recovery takes will come down to the size of the cannulas used. The larger the cannulas, the faster the procedure, but the more tissue damage. There is little to no additional recovery time required as a result of using general anesthesia (aside from recovery from the anesthesia itself) – but surgeons performing lipo under general anesthesia tend to use larger cannulas, since they are able to work faster and don't need to consider pain or discomfort. As always, speak with your surgeon about recovery times before scheduling your procedure.
How much does Lipo 360° cost?
Liposuction is priced by the body area – ultimately you're the decision-maker when it comes to what body areas you want fat removed from. If you want upper and lower abdomen and waist/hips, then the total cost would be in the price range of $5,500 – $7,500, depending on the size of your case. If you also want to address the upper back as well, the cost will be greater (generally though we see good results on the back when we address the love handles / hips area).
The best way to get an accurate price quote is to schedule consultation. In addition to getting an accurate cost estimate, a consultation will check for visceral fat, skin laxity, diastasis recti and other conditions that may affect your results, and will let you know if you're a candidate for Lipo 360°. At Houston Lipo Center we have the option of virtual consultations available as well as in-person consults, but regardless of which route you chose, you'll need to meet in-person prior to scheduling surgery.