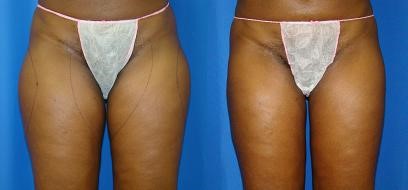 Women and men alike experience frustration with their thighs, such as fitting in pants properly, wearing a swimsuit, and pain from friction between inner thighs. SmartLipo can dramatically improve the appearance and frustrating conditions of thighs, and has rapidly gained popularity as it delivers fast results with minimal recovery time.
SmartLipo for the Thighs is a minimally invasive tumescent liposuction procedure. Dr. Bergeron uses a local anesthesia and a SmartLipo laser tool to melt fat cells prior to suctioning. Melting the fat cells makes the suctioning process easier, however it stimulates the skin in the area promoting new collagen growth. The result is much firmer, tighter skin and most patients see results almost immediately.
SmartLipo is a great way to achieve smaller, smoother, more contoured thighs. However, SmartLipo does not eliminate cellulite on the thighs, but it can dramatically reduce its appearance.
Maintaining a healthy diet and exercise program is the best way to enjoy your SmartLipo results permanently.
To find out if you're a good candidate for SmartLipo, call today to schedule your consultation. Consultations are complimentary and are held on a weekly basis.