The abdominal area can be a stubborn area of the body to achieve a flat, taut or smooth appearance. If you've been looking for a treatment that will get rid of the sagging pooch or flab around your stomach, you may have looked into liposuction or a tummy tuck. Although both treatments may address similar areas, there are important differences to consider when deciding on your treatment.
Trying to determine which option is best for you can be confusing and overwhelming. The information below will help get you started.
What is Liposuction?
Liposuction is a minimally-invasive surgical treatment that suctions excess fat away from the body permanently.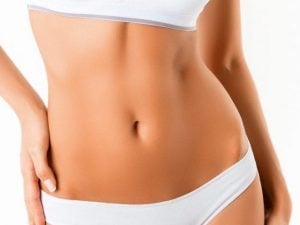 Achieving a flatter, tighter abdomen may not come to you despite regular exercise and a healthy diet. When it comes to stubborn deposits of belly fat, there are few treatments that can deliver results like liposuction. Though liposuction is not meant to be considered a weight-loss alternative, it is a great treatment for spot-reduction of exercise-resistant fat stores that typically develop around the stomach.
If the problem areas around your belly are primarily an issue of excess fat, then liposuction is typically the best route.
What is a Tummy Tuck?
A tummy tuck, or abdominoplasty, is a surgical procedure that removes excess, stretched or sagging skin from the abdomen to restore a flatter, and tighter abdominal area. A tummy tuck is also highly capable of repairing weakened or stretched abdominal muscles.
In many cases, when we're talking about the stomach and abdominal area, there is also the issue of excess, sagging skin. Pregnancy, aging, and large amounts of weight loss can result in sagging, stretched "flaps" of skin around the stomach. In these cases, liposuction may not be the best treatment because the excess skin is better addressed through treatments such as a tummy tuck.
Tummy Tuck vs. Liposuction Houston, TX
Both a tummy tuck and liposuction can deliver great results for achieving a flatter, leaner abdomen. To answer the question of which treatment is right for you comes down to the issue of excess skin versus excess fat.
Belly Fat versus Excess Skin
The struggle to achieve a slimmer stomach is one of the most common issues and only tends to get more challenging as you get older. Fat distribution is highly individualized and is affected by age, gender, genetics, and lifestyle. For women, they may notice a pronounced change of excess fat deposits around the waist after menopause, which studies show is linked to the changing levels of estrogen in the body. Hormone levels have an important influence on how your body stores fat.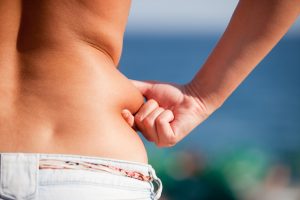 Aging, genetics, and lifestyle also play a big role in skin elasticity. Skin elasticity is the ability of your skin to hold a taut shape and resist the effects of gravity. When skin becomes stretched due to weight gain, age, and pregnancy, sagging skin can develop. Additional dieting and weight loss cannot treat sagging skin and may actually make the appearance of sagging skin worse.
Tummy Tuck or Liposuction? Which treatment is right for me?
The best choice for you is based on a number of factors unique to your body and goals. At a glance, the key differences between a tummy tuck and liposuction are:
Benefits
Liposuction: Fat removal and reduction
Tummy Tuck: Skin reduction and abdominal muscle repair
Cost:
Liposuction: Between $4,000 to $8,000 ~ average costs $6,000. (Learn more about liposuction pricing.)
Tummy Tuck: Between$6,000 to $$10,000 ~average cost $8,000.
Recovery Time:
Liposuction: 2 days off work and light physical activity, return to high impact exercise after 2 – 3 weeks.
Tummy Tuck: 2 – 3 weeks off work and light physical activity, returning to high impact exercise after 2 – 3 months.
Ideal Candidates for Liposuction
You may benefit from liposuction treatment if you:
Are in good overall health, within a reasonable range of your ideal body weight
Are a non-smoker
Do not have sagging skin around the abdomen
Have excellent skin elasticity
Ideal Candidates for Tummy Tuck
You may be better served by a tummy tuck if you:
Are in good, overall health, close to your ideal body weight
Have a "paunch" or excess flab of sagging skin around the abdomen
Have completed your last pregnancy
Are open to a surgical procedure that will involve significant recovery time
In general, patients under the age of 40 are better-suited for liposuction because they tend to have better skin elasticity. Patients over the age of 45 may benefit from a tummy tuck's ability to tighten weakened or separated abdominal muscles. Weakened abdominal muscles can occur due to age or as a result of multiple pregnancies.
Your Consultation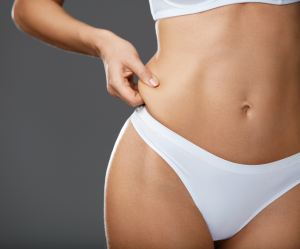 The best way to be certain of which treatment will achieve your desired result is with a consultation. Speaking in person with a fat reduction and body sculpting specialist is the best way to get an accurate assessment. An experienced cosmetic surgeon will always recommend the treatment that will best serve the patient's realistic goals and their unique anatomy.
Your consultation is a private personalized meeting where you can discuss your goals and concerns in detail. After a physical examination and assessment of your medical history, you will receive tailored treatment plan is created to fit your body and goals. In some cases, our patients may discover they may even qualify for non-surgical options such as CoolSculpting.
Only a consultation with an experienced surgeon can determine which options are best for an individual.
How is Liposuction Performed?
Liposuction is a safe, effective option for spot-reducing and eliminating stubborn pockets of exercise-resistant fat. At Houston Liposuction Center, SmartLipo, Vaser Lipo, and Tumescent Liposuction techniques are available for reducing fat from the abdomen.
Liposuction treatments are performed on an outpatient basis and typically range from one to two hours in treatment time. The modern techniques used make it possible for patients to remain awake and comfortable during the entire treatment. Patients are back on their feet and able to return home as soon as the treatment is complete. The procedure requires 1 to 2 mm incisions near the treatment site to enable a specialized tool called a cannula to suction fat from the body.
After treatment, mild swelling and bruising is common, but are managed with pain medication and compression garments.
How is a Tummy Tuck Performed?
Tummy tucks are relatively more involved surgical treatments compared to liposuction. The procedure requires about two to three hours to complete.
First, a tummy tuck is typically performed under general anesthesia. A horizontal incision is made across the lower abdomen. Every effort is made to locate the incision where it will be well-hidden by the bikini line. Then, excess skin is trimmed and the abdominal skin is pulled taut for a flatter appearance. In some cases, an additional, circular incision will be made to make an appropriate space for the belly button.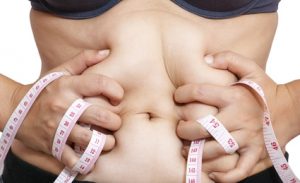 A tummy tuck is indicated for repairing stretched or weakened abdominal muscles. This is achieved by stitching the two vertical muscle groups of the rectus abdominis together with permanent sutures. The most common type of abdominal muscle separation occurs along the vertical line between the two major muscle groups of the abdomen, a condition called rectus diastasis.
After the muscles have been tightened and excess skin removed, sutures close the incision sites. Drains, compression garments, and surgical dressings are applied to protect the treated area as it heals.
Results of Liposuction versus Tummy Tuck
Both liposuction and tummy tuck can achieve a flatter, smooth stomach with long-term results. Weight gain in the future can impact the results of both procedures.
Liposuction permanently removes excess fat tissue from the body, which will not return to the treated area unless there is future weight gain. Most patients are encouraged by their great liposuction results, which instills a newfound enthusiasm for healthy habits.
The results of a tummy tuck are permanent unless there are future pregnancies or weight gain that can re-stretch the abdominal wall. The excess skin is permanently removed by the procedure. Tummy tucks will leave a visible surgical scar along the lower stomach, but this will continuously fade over time.
Cost of Liposuction versus Cost of Tummy Tuck
Liposuction is a less intensive treatment and typically costs less than a tummy tuck. Liposuction costs between $4,000 and $8,000 with an average cost of $6,000, whereas a tummy tuck ranges between $6,000 and $10,000 with an average cost of $8,000.
The numbers above are rough estimates. You will receive a personalized quote for your treatment at the end of your consultation.
Questions?
If you still have any questions, contact the Houston Liposuction Center today to schedule your consultation!