With summer quickly approaching, it is about that time of year when many will start to feel the pressure of achieving their ideal summer body before they head out to lounge by the pool or travel for a beach vacation. When it comes to losing weight and/or building muscle, diet and exercise is always the best place to start, but if you have been struggling to tackle a few stubborn areas that seem to be holding your confidence back, liposuction may be a great option for you to achieve your ultimate summer body goals.
All the areas that can be a source of insecurity for many people during the summer months, such as thighs, arms, abdomen, flanks, waist, hips, back, and buttocks can be treated with liposuction. During your consultation at Houston Lipo Center, our surgeons will take the time to understand your concerns and determine a plan that best meets your summer body goals.
When is the Best Time to Schedule a Liposuction Procedure for Summer?
The earlier the better of course, but because the tumescent liposuction method is minimally invasive, scheduling a procedure for late spring, early summer, or even mid-summer is not too late – you will be able to enjoy results within a couple of weeks.
Liposuction Recovery: Summertime Considerations
Compression Garments
For all liposuction treated areas, a compression garment must be worn 24/7 for the first two weeks following the procedure. We know you'll be anxious to show off your new beach body, but the bikinis or swim shorts will have to wait just a little bit longer.
Swimming
It is not recommended to swim right after a liposuction procedure. The incisions should be completely healed prior to getting into a pool or body of water, so hold off for a couple weeks before a dip in the pool – it'll be worth the wait!
Exercise
For most cases, you may return to low impact exercise within a day or two after tumescent liposuction, but it's important to refrain from intensive exercise for at least two weeks. If you're planning on any big summer hikes or watersports, those activities will have to be paused until healing is complete.
Sun Exposure
At Houston Lipo Center we use the most advanced and minimally invasive methods for liposuction, so the risk of scarring is already minimized. Nevertheless, UV rays are generally known to darken scars, so it may be best to avoid the sun until your incisions are fully healed.
Before & After: Liposuction of the Abdomen, Waist & Hips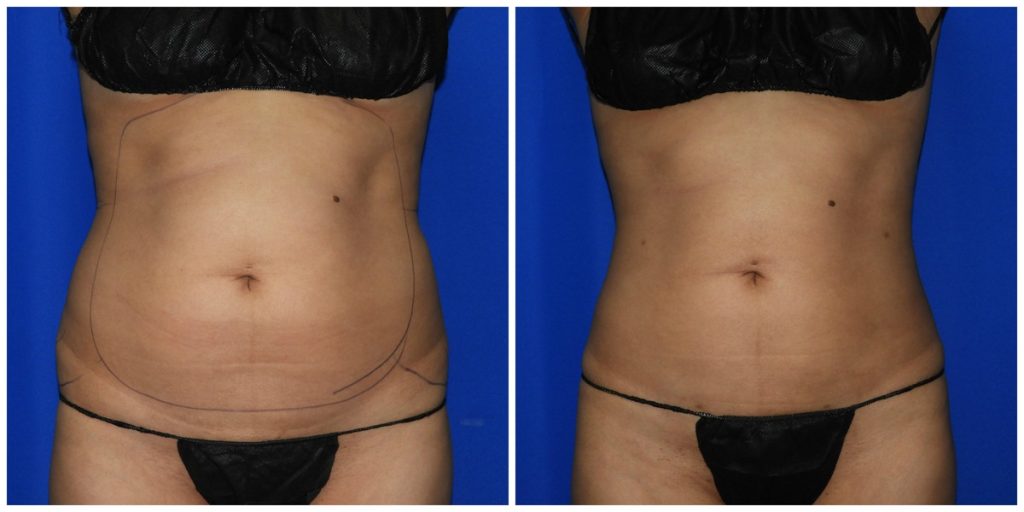 A Houston Lipo Center patient – Upper Abdomen, Lower Abdomen, Waist & Hips. View More Liposuction Before & After Photos.
Ready to feel your most confident this summer? Request a free consultation today!