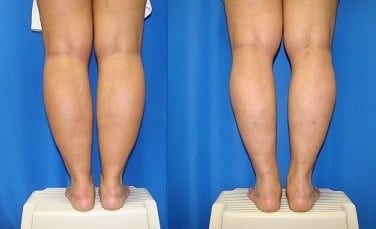 Are you proud of your appearance but dread the thought of anyone looking down at your legs? Most women have naturally tapered, shapely legs where the lower calf meets the ankle. However, other women are not so lucky and suffer from "cankles," or bulky calves and ankles.
Women with this condition no longer have to hide behind pants as they can see Dr. Bergeron for SmartLipo. Slimmer, tapered legs are a real possibility now as SmartLipo helps eliminate stubborn pockets of fat that don't respond to diet exercise.
Dr. Bergeron performs liposuction of the Calves and Ankles using local anesthesia and a SmartLipo laser tool to melt fat cells prior to suctioning. Melting the fat cells makes the suctioning process easier. The laser also stimulates the skin in the area, promoting new collagen growth. The result is much firmer, tighter skin and most patients see results almost immediately.
Don't allow your "cankles" to hinder your confidence any longer. Call to schedule your complimentary consultation today to see if SmartLipo is right for you.