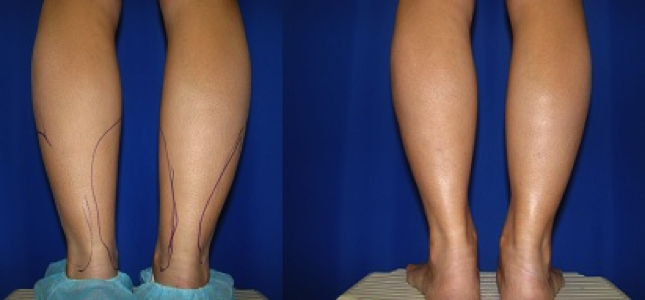 Some say that flat abs and a perfectly sculpted core are the most important indicators of physical fitness and ideal aesthetics. However, calves and ankles are one of the most visible areas of our bodies, and one of the most difficult to change. It's important to feel confident when strolling among crowds of people in shorts during the heat of the summer, or slipping on sleek, tall boots in the winter.
Fortunately, calf and ankle liposuction can remove unwanted fat from these areas. SmartLipo uses high-powered lasers to melt fat cells around this area of your body. The laser's energy breaks down and liquefies the fat cells, making them easy to suction out. While sculpting the calves and/or ankles, the laser also stimulates the skin. This promotes new collagen growth resulting in a firmer, tighter appearance of skin in that area.
SmartLipo is an outpatient procedure performed under local anesthesia. After the surgery, patients are fitted with a compression garment to wear for up to two weeks. However, the recovery is very fast as most patients can return to normal activities within one to two days.
Dr. Bergeron was one of the first doctors in the country trained in performing SmartLipo. He is now one of the most requested cosmetic surgeons with liposuction expertise in the Houston area. He performs about 25-30 liposuction procedures a month, with excellent results.
If you struggle with thick calves or ankles, call us today – you too can have sculpted legs.